Jasmine is a very strong general appearance doe. She is very long and level over their toplines, smoothly blending in her front end assembly and wide in her rump. She stands on very strong feet but is a bit straight on her rear legs. She also excels in breed character. Her dam, Josey, was a huge doe who also excelled in general appearance and had a lovely, well attached mammary. Sadly, we lost her when she kidded with Jasmine. Their maternal granddam is one of our favorite experimental does in the herd!
Jasmine freshened with a very correct, nicely attached mammary this year. She has a high wide rear udder and a long, smoothly attached fore udder. She is smoothly blended throughout. We really like this promising young doe.

Jasmine will be bred to Morgan for March kids. Price $500.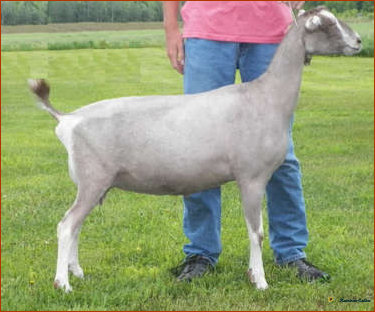 Dam: Calico-Acres Mav's Josey 2*M

Sire:+*B SG Lucky*Star's LX Forceplay