Welcome to Raintree-Calico Dairy Goats, home of Larry, Deb and Sharla Macke and James, Michael and Samantha Nagel. Our farm is located on 40 acres in the north woods of Price County in Northern Wisconsin. Along with our dairy goats we also have a trio of very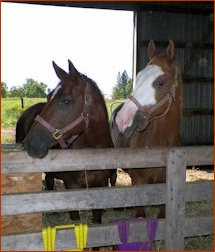 special horses...a chestnut quarter horse mare, a paint gelding and a dark bay Quarter Horse gelding and raise hay for our herd. Our dairy goat herd consists primarily of Purebred LaManchas with just a few Americans. Sharla's herd name is Calico Acres; James' is Calico Fields; Michael's is Calico Lane and Samantha's is Calico Patch. The Calico Acres herd also consists of just a few top quality Recorded Grades and we have added a Purebred Alpine buckling to the herd to aid in that endeavor.
We have been raising dairy goats since 1985 when we started with a pair of grade Alpine does as a 4-H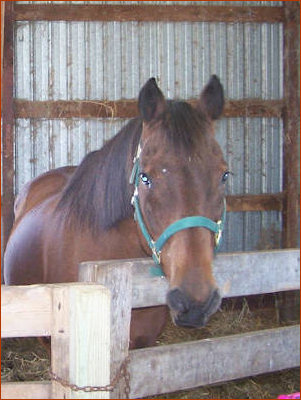 project. Over the last 33 years we've been involved in all aspects of the industry including 5 years as a commercial goat dairy. We first added the LaManchas to our herd when we were purchasing animals to build up our commercial herd. A shortage of dairy does led us to SW Wisconsin where we found a lovely herd of very well-cared for grade LaManchas. It was there that we found "Jorja" and her herdmates. Nineteen LaManchas came home with us that day and so began our love affair with this short-eared breed. Living way up north with the dairy markets in the south made it very difficult to market milk and in 1993 we made the decision to focus our energies on developing a select herd of breeding stock and show animals. The commercial does were exported to a dairy in Canada and what remained was the basis of our LaManchas of today.
When our son, Kevin, was old enough for 4-H he wanted a top quality purebred LaMancha to start with and we looked to Haute Caprine for our first purebred doe. You can still find the influence that Haute Caprine animals had on our herd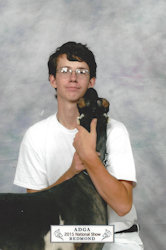 in the pedigrees both past and present.
We currently milk a herd of approximately 20 show quality does. With our family more widespread in the past few years we havelimited our showing usually picking a couple of good competitive shows a year to attend. Our herd is linear appraised annually or bi-annually and we are on DHIR milk test. Being dairy farmers, we believe that those show does should still be able to milk and we take pride in our high milk records and multiple Breed Leaders. We have attended the last six National Shows but made the decision to take 2018 & 2019 off. Obviously 2020 has been a quiet year and we have not attended any shows as all local shows were cancelled. We look ahead to 2021 with the hopes of returning to the show ring. We have several shows on our list for 2021 including, hopefully, the ADGA National Show.
We are very proud of our herd's accomplishments but we still continually strive for improvement. Over the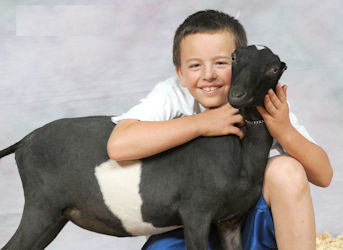 past few years we have added genetics from a few select herds including Kastdemur's, Barnowl, J-Haven, Jen-Mae-Ka Kids and Mint*Leaf. Our appreciation goes out to them all for allowing us to add such lovely animals to our herd. We also thank them for sharing their beautiful photos for our website. Take a few minutes to visit each ofthese herds and see what they have contributed to the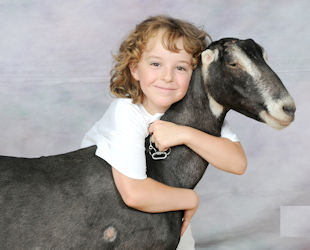 LaMancha breed.
Join us now for a visit to Raintree-Calico Dairy Goats. Let us know if you see something you like or have any questions.
Visit us on Facebook at Raintree-Calico Acres Dairy Goats
Click on the Facebook logo to visit our page!

Raintree-Calico Dairy Goats
Calico Fields-Lane-Patch
Deb & Sharla Macke
James, Michael & Samantha
N3690 Elmwood Rd.
Hawkins, WI 54530
715-563-0052
raintree.lamancha@gmail.com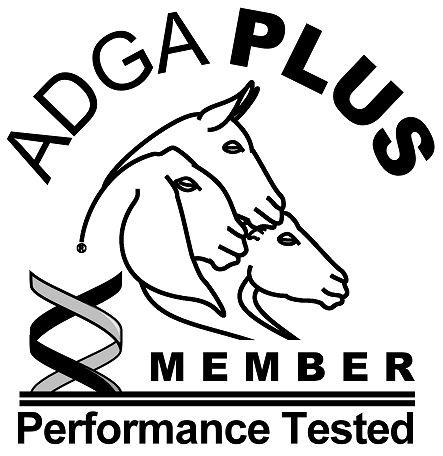 "Medics never stand taller than when they kneel to treat the wounded."
--T. Daniel McGinley

"Stay Strong, my son and Stay Safe"
Know that our love and prayers are with you wherever you may travel.
NOTE: ALL PHOTOS COPYRIGHT RAINTREE-CALICO DAIRY GOATS AND
MAY NOT BE USED OR REPRODUCED WITHOUT PERMISSION.



Page last updated 12/27/2022
Home

Senior Bucks

Junior Bucks

Mature Does

Two Year Olds

Yearlings

2023 Kids

Reference
Kidding Schedule

For Sale

Website Design

Website Portfolio

Farm Photos

Links
Webhosting proviided by