Email us at raintree.lamancha@gmail.com for more information
We will have a group of 10-15 young milkers/dry yearlings for sale in the spring of 2024.
$500 deposit will reserve the entire group until they are ready to leave.
If you are looking for just a few, $100 deposit per animal. Available animals will be offered in the
order deposits are received (1st deposit gets buyers choice of available animals). If you see
something specific you are interested in, just email us and we'll talk.
For Sale
Yearling Milker ~$750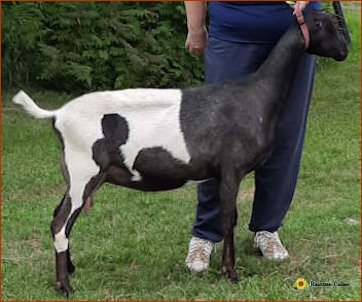 Raintree MH KitKat
PL2232307 ~ DOB: 03/06/22
Black fore, white rear, wh facial stripes, brown on legs and trim
**DNA on file ~ Parentage Verified**

S: *B Kastdemur's HW Mad Hatter ~ 90 VEE
SS: +*B SG Rockin-CB KR Hoku AI
SD: GCH Kastdemur's Wicked 6*M ~ 92 EEEE
2018 Nat'l Grand Champion & Best Udder, 2019 Nat'l Best Udder

D: SGCH Calico Patch DS Snickers 2*M ~ 91 EEEE
2021 High 305 Milk, High 305 Fat, High Lifetime Milk, High Lifetime Fat & Total Performer
ADGA National Show
DS: J-Haven's RS Denim Sunset ~ 86 VVV
DD: Raintree SL CitCat 1*M ~ 89 VVVV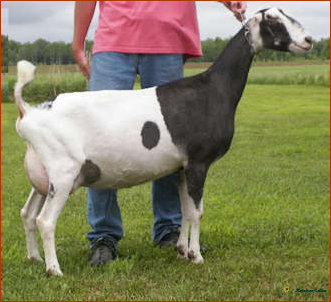 Dam: SGCH Calico Patch DS Snickers 2*M

February 23 Kid ~$500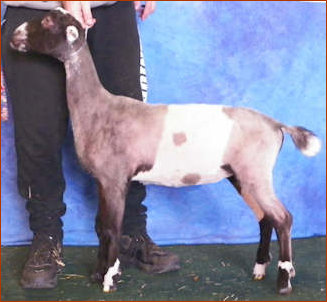 Raintree HT Sprite
PL2282006 ~ DOB: 02/22/23
Belt black & white, wh on legs, tail facial V, frosted
S: *B Jen-Mae-Ka Kids Heart Throb ~ 89 VVE
SS: +*B Kastdemur's Vicco
SD: SGCH Jen-Mae-Ka Kids Luvs 3*M ~ 91 EEEE

D: Raintree Sin's Angel Dust 1*M ~ 86 VVVG (nearly dry after aborting early)
DS: Mint*Leaf Decadent Sins ~ 91 EEE
DD: SG Raintree M Gypsy Magic 2*M ~ 91 EEEE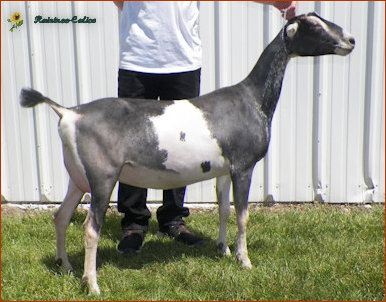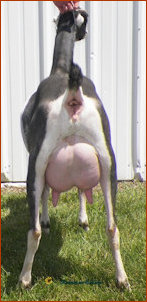 Dam: Raintree Sin's Angel Dust 1*M (yearling milker photo)

We are taking reservations for buck kids for 2024. Buck kids will only be retained if they are pre-ordered.
Please check out our kidding schedule for breeding information.
If you have questions, please don't hesitate to contact me at raintree.lamancha@gmail.com
SALES INFO ~ PLEASE READ
1) Any animals for sale will be listed below with their price
2) Delivery is not included in the price. Delivery may be an option if we happen to be traveling in your direction.
Delivery is $100 per animal outside of WI (we will pro-rate that if you purchase multiple animals) and you may have to meet
us in an acceptable location.
3) If your animal is traveling outside of WI, he or she needs a CVI. If we are transporting your animal, a CVI is required.
Our vet charges $50 for a CVI. That cost is your responsibility.
4) We are more than willing to ship an animal for you. You are responsible for crate costs, CVI and travel to the airport. We
ship out of Minneapolis-St. Paul International Airport and prefer to ship no later than 4 weeks. Remember, we live in a cold climate
so weather can affect shipping. We may or may not be able to ship in January-February depending on airline
5) Animals must be paid in full before leaving the farm. You are more than welcome to send payments prior to the birth
of your animal but they must be paid in full within 2 weeks of notification of birth.

Sales Policy
Thanks so much for your interest in our LaMancha herd. We have tried to include all pertinent information on each doe but if you have any questions or need additional information, please don't hesitate to give us a call. A health certificate (certificate of veterinary inspection is usually $65) as well as any additional health tests and shipping costs including a carrier are the responsibility of the buyer and must be paid in full prior to shipping. Our herd has been tested CAE free in the past but we do not annually whole herd test. If you would like your animal tested, we are more than willing to test him/her for you at your expense. If you are taking the animal across state lines out of Wisconsin, state law requires that they be accompanied by a health certificate. We charge an additional $75 delivery fee to the airport as we ship out of Minneapolis-St. Paul International Airport which is over a 350 mile round trip for us.
We receive many questions regarding delivery and boarding of animals past a month of age. We greatly prefer that you plan to ship/pick up your reserved kid by 4 weeks of age. We have limited space and need to keep making room for those animals that we are keeping. If you can't arrange to have your animal picked up or shipped, we charge $1.00 per day per animal after 4 weeks of age. As far as delivery, it can be arranged but please contact us ahead of time to find out costs and make arrangements. We do NOT deliver for free. Mature animals need to be picked up within 2 weeks after purchase unless prior arrangements are made.
We ask for a $100 deposit to reserve kids. This is non-refundable if you cancel your order. If the kid you have chosen is not born or is not acceptable for us to sell, we will refund your deposit or allow you to choose another kid. While we will accept a deposit on a buck kid out of a first freshener, we will make the final decision on that sale after the doe has freshened. We will contact you as soon as possible after your kid is born and prefer that you pick it up or make arrangements for shipping within one month, unless prior arrangements have been made. If you plan to have your kid shipped by air, please make arrangements to send a 300 or 400 airline approved carrier as soon as you are notified. The balance of the payment is expected within 2 weeks after the birth of the kid or it will be offered to someone else. We prefer your final payment is made by money order or cash. Please indicate a 2nd and 3rd choice kid when you send your deposit. If you anticipate longer than a 4 week wait to pick up your animal, it must be paid in full and boarding will be charged after 4 weeks. As always we reserve the right to retain any kid born on the farm. Deposits will be taken in order received based on postmark (or paypal) date.
We are willing to sell internationally but please be aware that international health papers cost between $400 and $700 depending on the amount of animals you are purchasing. Also shipping internationally requires more time and labor than domestic sales and often animals must be held in our herd for a much longer length of time while waiting on health papers. We charge an additional $150.00 for labor and additional boarding on international sales.
To view a copy of our 2024 Sales policy, please click here. (pdf file) If you have any questions about our policies, please ask before purchasing.
If you have further questions, please feel free to contact us. Visitors are always welcome, but please let us know ahead of time. The best time to call us is between 6:00 and 8:00 pm CST. Please leave a message if we are not available or feel free to E-mail us. Again, thanks so much for visiting with us.
Raintree Dairy Goats
Calico Acres-Fields-Lane-Patch
Deb & Sharla Macke
James, Michael & Samantha
N3690 Elmwood Rd.
Hawkins, WI 54530
715-563-0052
raintree.lamancha@gmail.com



Page last updated 09/17/2023
Home

Senior Bucks

Junior Bucks

Mature Does

Two Year Olds

Yearlings

2024 Kids

Reference
Kidding Schedule

For Sale

Website Design

Website Portfolio

Farm Photos

Links
Webhosting proviided by