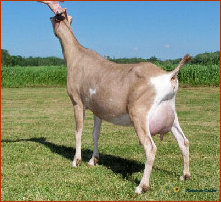 SGCH Raintree OL Kricket
S: *B SGCH Devonshire MC Conagher's Outlaw LA-90
SS: +*B SGCH One*Oak*Hill Tweed Conagher
SD: SGCH FDF-Pleasant-Fields Mix
D: SG Raintree Calypso Kassidy 1*M LA-87
DS: +*B SGCH South-Fork Charming Calypso LA-90
DD: CH Raintree Dion Jasmine HES-90
DOB: 04/02/07
Color: Pale chamoisee w/white trim
Young stock appraisal 2007: V (VEcV)
Young stock appraisal 2008: V (VVEc)
Linear Appraisal: 3-3 EX90 (EEVE)
What can I say about this beautiful doe? She freshened again as a 4 year old with a truly amazing mammary and tons of milk. She excels in dairy character being extremely tall and sharp over the withers, long and lean in the neck and incurving in the thighs. She is very wide in the chest with great depth of body. She has a very high, wide rear udder with a long, smoothly attached fore udder with tremendous capacity. As an added bonus, Kricket is one of several polled does in our herd.

Kricket was our first Outlaw daughter in milk and we are thrilled with the way she has matured.. We love the power and style that Outlaw has give to his offspring and this is one of his best.

Kricket finished easily at our first show out in 2010 going GCH, BOB and BUOB. She then appraised EX-90 (EEVE) which was just icing on the cake!! At the final show of the 2010 season, Kricket was named BOB. This year she again made a splash at the first show of the season....fresh just 3 weeks she was 2X BOB, 2X BUOB and 2X BUIS!! She finished out the fall show season with a GCH, BOB and BUOB win!!

We lost this very special doe in the summer of 2012....and I can't express the heartbreak I have felt over her loss. She will never be replaced.